About Us - The Owners of Ogopogo Resort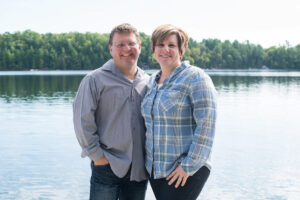 We are Katherine and Todd, the proud owners of Ogopogo Resort since July 11th, 2013. Our goal is to provide our guests with a memorable cottage experience, drawing from our own personal memories of growing up cottaging with our family.
Located on picturesque Mountain Lake, Ogopogo Resort has been offering families a place to make lasting memories since 1951. We are thrilled to be a part of its rich history and excited to continue offering a unique vacation destination for nature lovers and adventure seekers alike.
At Ogopogo Resort, we believe life is better surrounded by nature and the simple pleasures of a lakeside escape. We are dedicated to providing our guests with a unique and memorable experience, and we can't wait to welcome you to our little piece of paradise.
Book Your Stay At Ogopogo Resort​
Book your stay at Ogopogo Resort and indulge in the ultimate vacation experience in the stunning Haliburton Highlands. Register to receive newsletters with updates on special events and packages and take advantage of the incredible opportunities this region has to offer.
With breathtaking mountain lake views, well-equipped cottages, and a range of on-site activities, you are sure to create unforgettable memories during your stay.
Why #LifeIsBetter@Ogopogo
Location and Accessibility
Nestled in the picturesque Haliburton Highlands, Ogopogo Resort is the perfect destination for nature lovers and adventure seekers. With its prime location near Ottawa, Kingston, Belleville, Barrie, and Metropolitan Toronto, reaching the resort is a breeze.
Natural Beauty and Outdoor Activities
You'll be surrounded by breathtaking natural beauty at Ogopogo, including Mountain Lake, Horseshoe Lake, and the Minden White Water Preserve, a popular destination for professional kayaking competitions. Ogopogo Resort is close to the Leslie Frost Centre, Haliburton Forest, and Algonquin Park. We can offer our guests a wide range of outdoor activities such as biking, hiking, skiing, kayaking, fishing, snowmobiling, and so much more.
Ogopogo Resort is the perfect place for families to gather and create cherished memories with their loved ones. Ogopogo is a  safe and fun-filled environment. You'll have a blast fishing off the dock, roasting marshmallows around the campfire, or simply enjoying the lake.
When winter arrives, the Haliburton Highlands becomes a winter wonderland, and Ogopogo Resort is at the heart of it all. Cross-country skiing enthusiasts will love the Twin Lakes Ski Trails – located directly across the road from Ogopogo Resort. The resort also rents heated fish huts, including bait for ice fishing and offers a flood-lit skating rink on the lake, and the kids love the toboggan hill. For some added off-site excitement, try dog sledding at Winterdance or downhill skiing at Sir Sam's Ski and Bike.
Special Events & Attractions
During the holiday season, the resort transforms into a magical place with ice skating by moonlight, pond hockey games, skiing the slopes, cross-country skiing on groomed trails, and a lakeside bonfire on New Year's Eve (weather permitting). Your fully equipped kitchen allows for easy preparation of holiday meals.
The Haliburton Highlands is also rich in Ontario heritage, including the logging industry and the Heritage Log Chute and Stanhope Heritage Discovery Museum. The area also hosts a variety of special events throughout the year, such as the Highland Summer Festival, the  Haliburton Highlands Dogsled Derby, Hike Haliburton Highlands Festival, the Fall Studio Tour Haliburton Highlands, and the Minden Ice Races held over 6 weekends in late January.
Dining & Shopping Options
Ogopogo resort is just 7 minutes from the town of Minden Hills, offering a variety of attractions and dining options, including the Gull River for a lazy river floating experience, Minden Cultural Centre, the Agnes Jamieson Gallery and R.D. Lawrence Place. The Village of Haliburton is only a 20-minute drive from the resort. It offers an even larger range of shopping and dining options. Within 10 minutes of Ogopogo are great local dining options like The Pepper Mill, Rhubarb Restaurant, Tim Hortons, Subway, Godfather Pizza, Mark's Chinese, SuWan Thai and many more. 
See what real visitors have to say about their experiences at Ogopogo Resort.

Verified
Relaxation time You can't control the weather so it was a cool weekend. We have enjoyed this resort before and are never disappointed. It is small and quiet. There are a lot of outdoor toys for activities of all ages. The cottages are small, but cozy. I am grateful not to have to drag linens with me but I prefer soft pillows rather than the hard pillows supplied. The coffee maker was not properly cleaned, but other than that all was great. If you decide to go out for breakfast the Heather Lodge is close by, reasonable and absolutely amazing!
Verified
Relaxing, soul-nurturing immersion in beauty and nature surrounding us Loved the cottage, the view of the lake, the countryside, the friendliness and helpfulness of Katherine and Todd. An added bonus was meeting wonderful people who happened to be enjoying their stay as well.

Shawna-Marie G
2022-03-21
Verified
Just like home Katherine & Todd were very hospitable and generous with helping us plan our stay in the area. Todd met us at the car and transported our luggage to the cabin via snowmobile & toboggans. My daughter and I went snowshoeing on the lake, made a nighttime fire and enjoyed so many other activities in the area. The cottage was warm and clean and was just perfect for 2 people getting away for a winter holiday. I'd love to stay at Ogopogo again, we were very sad to leave!

Verified
A great winter getaway We were there for three nights in a 2 bedroom cottage. The location is handy to several activities and restaurants. The cabin was immaculate and the kitchen very well equipped. The owners were very pleasant and helpful. Covid protocols were well followed We will definitely go back.

Verified
Loraine and Graham Wise Accommodations were super clean, bright cheery rooms, bedrooms were warm, very well equipped kitchen. Skating rink well groomed, and nicely lit for night skaters. Ice huts adequate for ice fishermen. Owners Todd and Katherine very accommodating and friendly. We would highly recommend Ocopogo to others. Our group thoroughly enjoyed the weekend.

Verified
Round of applause! Katherine and Todd run a stunning, clean and well organized operation. Both were incredibly helpful every step of the way. I highly recommend Ogopogo and will definitely be returning with friends and family in the near future.

Verified
Hidden Gem We spent 3 nights in a 3 bedroom cottage in January. The resort is immaculate and the owners go above and beyond to look after their guests. The cottage was spotless and well equipped. The kids were occupied from dawn to dusk skating on the rink, whipping down the toboggan hill and catching trout and walleye. Hands down the best resort we've ever stayed at, a real hidden gem! Thank you to Todd and Katherine for starting a new tradition for our family, we will be back!

Verified
Winter stay at Ogopogo We were impressed at how well the kitchen was equipped. The cabin was very clean. The Staff was always super friendly and helpful. Close to Sir Sam Skiing. We enjoyed tobogganing and the outdoor fire pit.

Verified
A Fantastic Place at the Best Price The setting was lovely, the cottages were very clean and well maintained, and the owners are great people. The easy access to the lake and boats was easily the best part, but it was also nice being close to the many towns and trails we wanted to visit. This is both the most affordable and the nicest place we have lodged and would definitely go again.

Vacation267856
2021-10-03
Verified
Girls weekend Beautiful place.Very clean inside and out. COVID protocol in place.Highly recommend.Really enjoyed shuffle board.Owners were very friendly and accommodating.Looking forward to going again next year. Denise Wagler-Allan